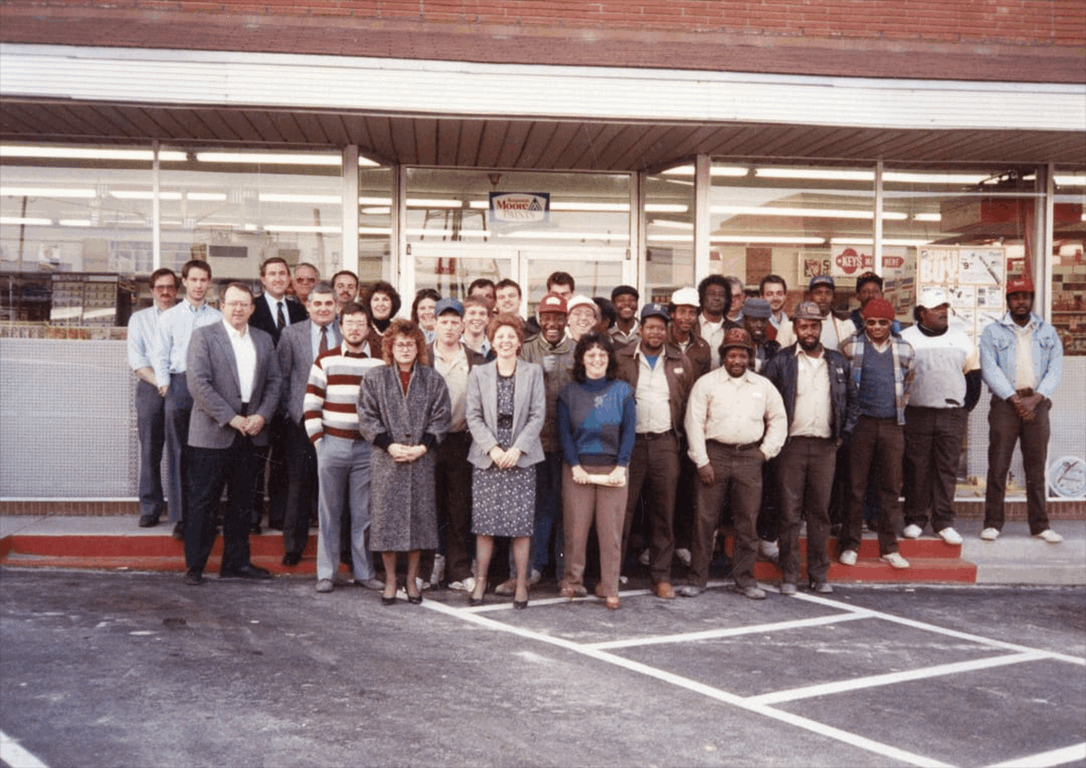 75 YEARS OF FAMILY OWNED SERVICE
Home Builders Supply Co. Inc has been blessed with loyal and hardworking employees who make up its family. Home Builders takes great pride in its relationship with its employees, customers, and the surrounding community. This has been achieved by the grace of God, the combined efforts of the Staff, Stockholders, Officers and Directors and our faithful customers.
OUR HISTORY
November 26, 1946
Stockholders met for the first time, after incorporation. The Stockholders were Marvin K. Blount Sr., Dr. John D. Messick, Mr. E. Hoover Taft Jr., Mr. H.A. Lane, and Mr. Thompson D. Litchfield.
1948
Home Builders & Supply Co. purchased May Building Supply from Greenville businessman, Reynolds May. Ford McGowan and Edward C. Harris were designated as co-managers.
1950
Mr. H.V. Elks joined the company and was for many years a loyal and valuable employee later becoming President. Business was good during the fifties through the sixties. HBS Co. supplied some labor and building materials for their contractors to develop properties owned by some of the Stockholders.
October 1966
William Gray Blount Sr., son of Marvin Blount Sr., became a Stockholder. At WG Blount's suggestion, J.B. Surles III was promoted to Vice President and General Manager. The Taft family was an integral part of the success of the company from its inception, but through a division of several companies they sold out in 1975 to the Blount Family.
1980
William Gray Blount, Sr. became President of Home  Builders Supply Co.
October 1980
The 1980s saw the Savings and Loan crisis and a marked slowdown in the finance industry and the real estate market. The late Mr. Frank Layne joined the company as Credit Manager and led HBS Co. through this difficult period.
1984
The Builders Bargain Center was started by A.L. Perry and Malcolm Perry of Goldsboro Builders; J.B. Surles III and W.G. Blount.
1987
The Bargain Center began as a business selling seconds in lumber and shingles and was a cash only operation. Mark Case, a most valuable employee was General Manager during that time.
1990
Builders Bargain Center merged with Home Builders and became Home Builders Do-It Express.
1995
The third generation of the Blount family, William Gray Blount Jr., joined the company after graduating from East Carolina University School of Business.
1998
William Gray Blount Jr. purchased Mr. Surles' stock and became Vice President of HBS.
Spring 1998
A devastating fire destroyed the entire showroom, administrative offices, and the warehouse. Temporary office space was set up, and soon the rebuilding was underway.
1999
Following the fire in 1998, Mr. Don Wilson was made General Manager and had a critical role in rebuilding the business back from the ground up. Mr. Wilson's significant contributions to the business were realized immediately and kept HBS growing in the right direction even through his retirement in 2006.
October 2000
The company moved back into the new space with a Grand-Re-Opening at 2000 Dickinson Avenue.
2007
As the company focus shifted to the professional contractor, a decision was made to close Home Builders Do-It Express. In November of that same year, HBS Co. opened a stand-alone paint store. Inner Banks Paint & Decorating is located at 2025 Eastgate Drive and features Benjamin Moore paints. Inner Banks Paint & Decorating, a Benjamin Moore signature store, offers expert color-matching service and an array of paint accessories and supplies. ‍
2008
2008 saw "The Great Recession" with the crash of the housing and construction industry. Many independent building supply companies did not survive. However, through strong leadership, Home Builders Supply Co. was able to weather the storm through this turbulent time.
2009
Home Builders Supply Co. expands company footprint to the former Stock Building Supply plant in Wilson, NC. The company's growth provided jobs and strong community involvement to the County. The company also completed a new design center featuring windows, doors, and cabinets in Greenville. ‍
2013
Jason Tew, a residential framing contractor, joined the Home Builders Supply Co. team, bringing with him experience as a former business owner and  HBS Co customer.
April 2015
Home Builders Supply Co. grows again, adding the Commercial Division and hiring Kursten Cofer as the Commercial Division Manager. The Commercial Division, also called a Gypsum Specialty Yard, distributes commercial exterior, commercial interior, and residential drywall products to job-sites throughout eastern NC.
Summer 2016
Jason is promoted to General Manager. Under his leadership, Home Builders Supply Co. hired a Human Resources manager, a workplace Chaplin (fall of 2016), and formed the "We Care" ministry (summer of 2017) to better serve the needs of the company's employees and their families.
May 2021
Ground breaking take place for the new Commercial Division location at 201 Hooker Road, Greenville.
April 2022
HBS Commercial opens their new location and continues to be Down East's number-one supplier of commercial products and accessories including fire-rated drywall, metal framing, commercial insulation, FRP panels, and acoustical ceilings from top manufacturers. The company also offers residential and multi-family drywall products and accessories, and the safest, most-professional boom truck-delivery service in eastern North Carolina.
December 2022
William Gray Blount Jr. becomes President of Home Builders Supply, Co.
To Date
"Since the building burned down in 1998, there have been continued improvements to the company," noted President Gray Blount. "Being a local business, Home Builders Supply has always given back to the community that has supported us. When the new heart center was built at Vidant Health, then PCMH, Home Builders Supply endowed a room in the center in honor of its employees. The company also funds a scholarship at the School of Construction Management at East Carolina University for young men and women planning a career in the building industry."